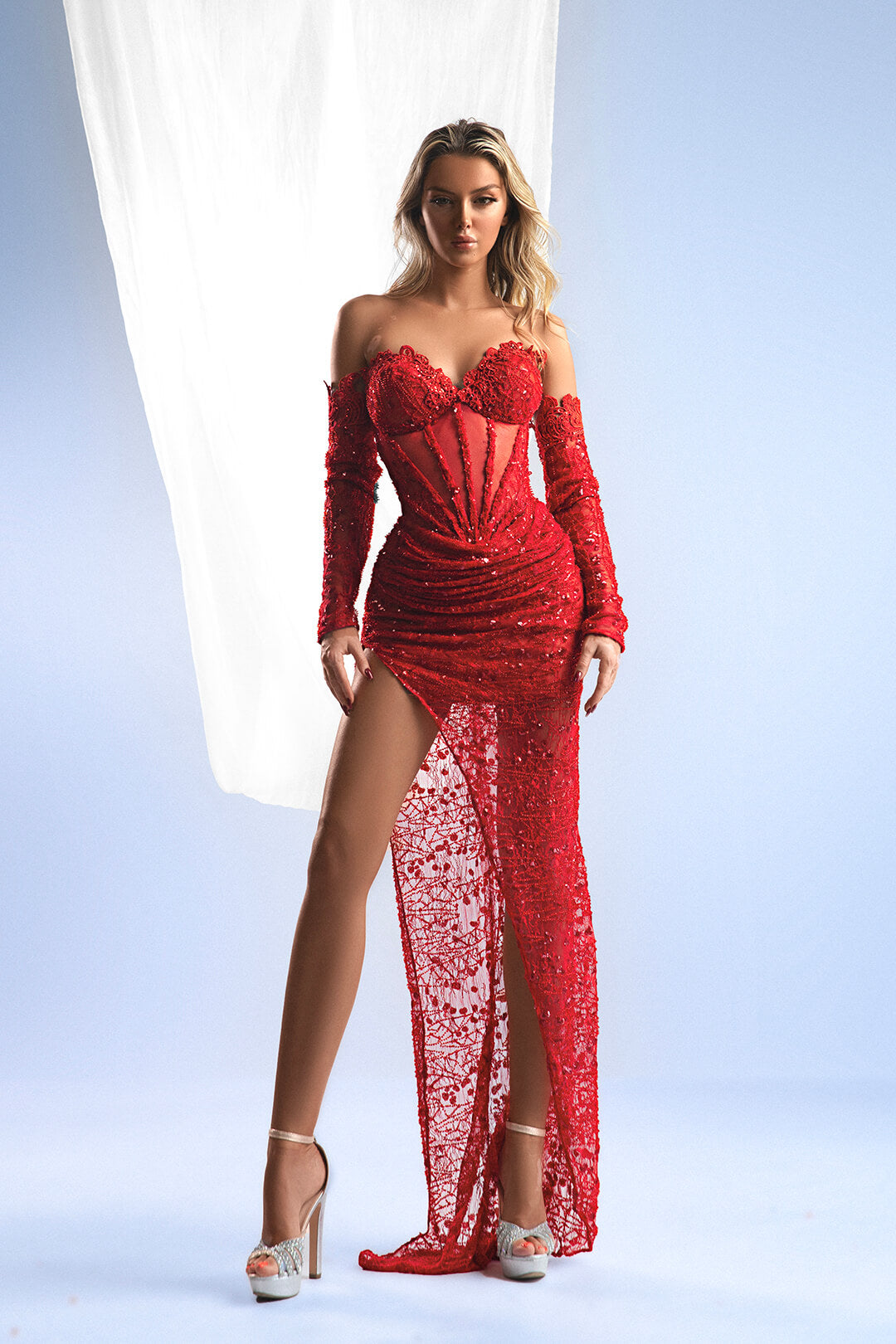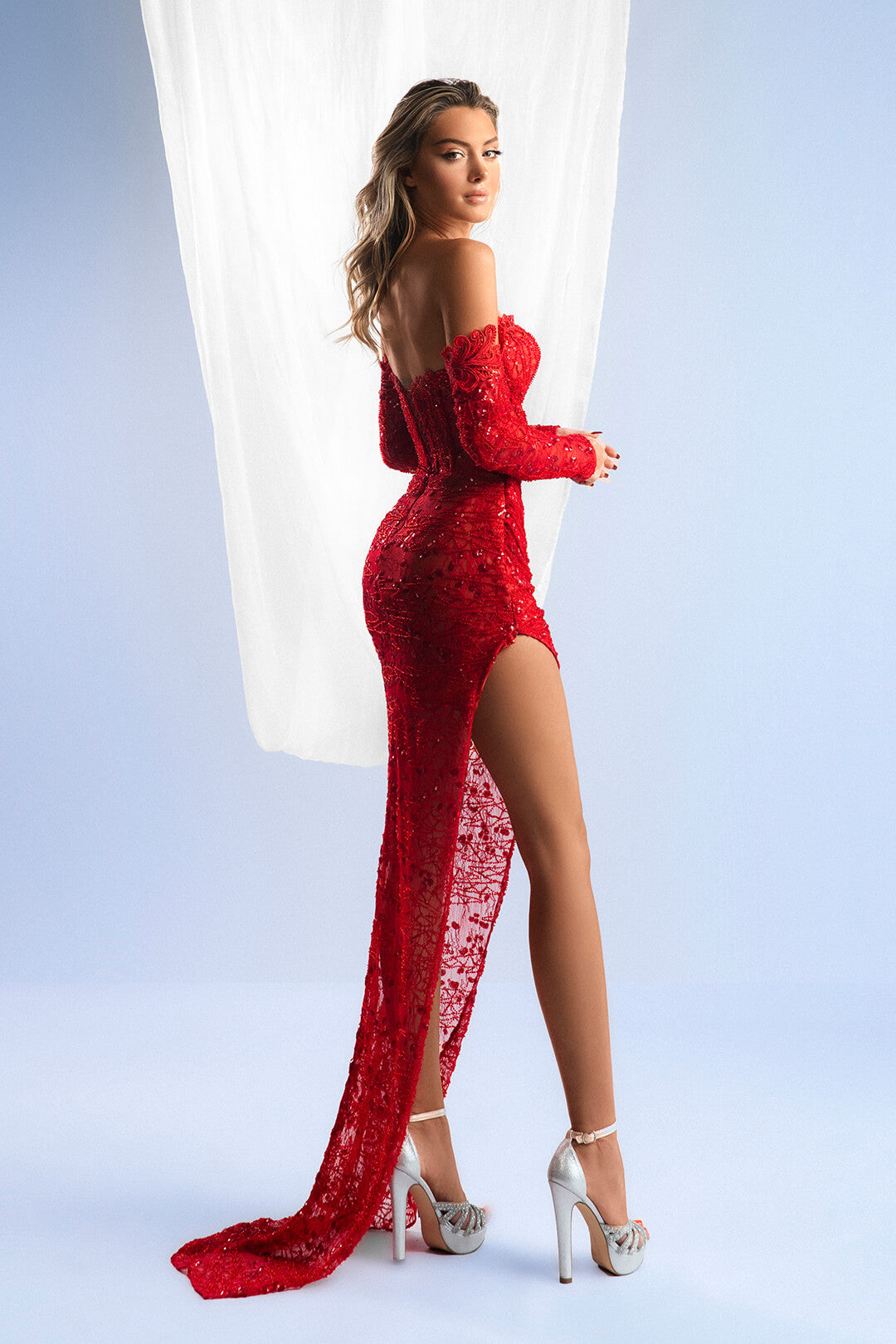 Red Diamond
Sale price

$1,200 USD
Regular price
(/)
---
Indulge in the breathtaking allure of a long dress crafted with exquisite red lace, designed to captivate and showcase your unique sense of style. This extraordinary ensemble combines daring design elements with delicate details, creating a truly unforgettable statement piece.

The centerpiece of this enchanting dress is the corset, which takes the shape of a bra, redefining elegance and sensuality. Crafted with exposed boning, the corset blends the beauty of nature with the sophistication of fashion. The intertwining boning create an intricate pattern that embraces your torso, while a translucent material reveals glimpses of your waist, adding a touch of allure and intrigue. This delicate balance between coverage and transparency results in a captivating and subtly provocative effect.

The lower part of the dress is adorned with elegantly arranged wrinkles, strategically placed in the hip area. These gathered folds add volume and movement, creating a flattering silhouette that accentuates your curves. The dress gracefully cascades down, elongating your frame and exuding an air of elegance.

In a daring twist, one leg of the dress is artfully exposed, adding an unexpected element of allure and drama. This captivating feature allows for graceful movement and adds an undeniable touch of seduction to the overall ensemble. With each step, the exposed leg creates a mesmerizing visual effect, showcasing your confidence and grace.

The combination of the corset with exposed boning, the translucent material that reveals the waist, the gathered wrinkles in the hip area, and the exposed leg creates a truly unique and striking dress. It embodies a fusion of modern sensibility and timeless femininity, making a bold statement and leaving a lasting impression.

The exposed branches, translucent waist, gathered wrinkles, and exposed leg are meticulously designed to celebrate your individuality and accentuate your natural beauty. 
Shipping & Delivery

How fast will you process my order?
Order processing time is about 1-6 business days.

When will I receive my order?
Due to the made-to-order concept of each creation, your order will typically arrive 7-20 business days after your order is placed.
Free worldwide shipping via DHL.
Unique Design

We design with boldness in mind to ensure that all of our creations are as unique and stylish as our customers.

Every detail of our creations is considered to ensure the end product is perfect.

Each creation is hand-cut and handcrafted using the finest fabrics from Europe.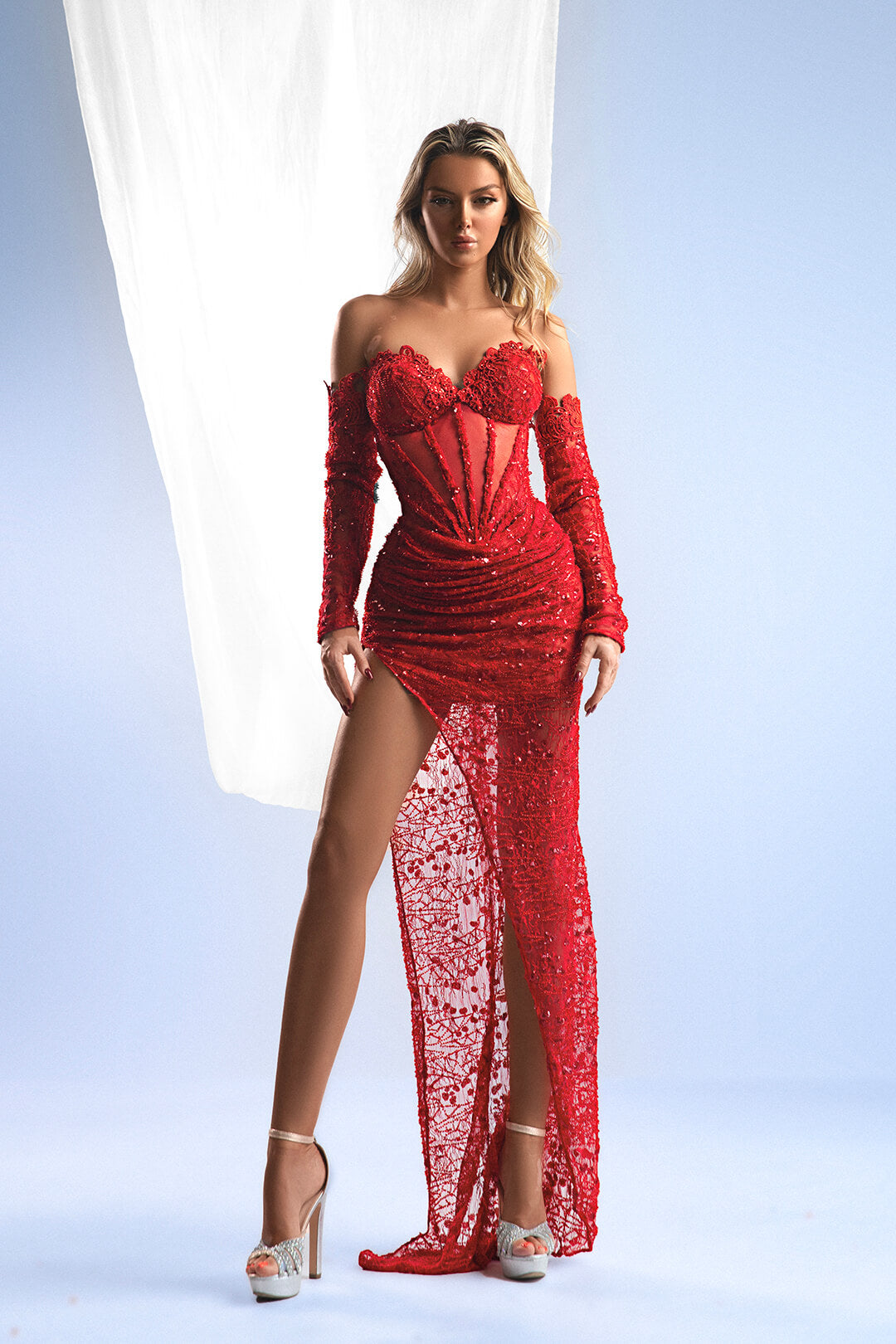 Red Diamond
Sale price

$1,200 USD
Regular price
Choose options